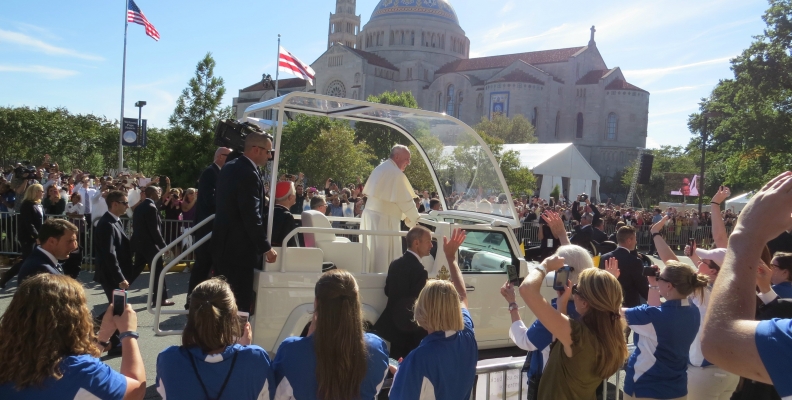 Meg Ross Saw the Pope Last Semester in Rome then on Our Own Campus
I was a volunteer in the Command Center helping the leadership to coordinate runners and relief throughout the day. We were all in the McMahon Hall foyer around 3:30 p.m. when everything seemed to be slowing down and Dean Jennings [Kathryn Jennings is Senior Associate Dean of Students and Director of Campus Activities] let us know that we could go out onto the steps. She had mentioned that the runners would have a chance to get a good view, but I wasn't expecting to have that great position!
I was lucky enough to study abroad in Rome last semester so it was not my first time seeing the Pope this year, but there is definitely something special about seeing Pope Francis on our campus. I am from 20 minutes outside of Philadelphia so I knew that there were plans for him to go there. I was in Rome when the announcement that he was coming to CUA happened, and I remember being excited that a connection I had to my semester abroad was continuing into my next year back at CUA. I had the opportunity to help with a lot of the volunteer planning process, and it was a very satisfying feeling to see all of our hard work pay off and the entire day go smoothly. Seeing Pope Francis in the Popemobile right in front of me at CUA brought it full circle, and brought together all the experiences I have had over this past year and brought a smile to my face. It was truly something I will never forget.
I saw the Popemobile go by and thought that he was just going to do one pass. He was past the trees next to McMahon when he told the [driver] to turn around and go back down the route. I wasn't too surprised when he turned around, since I had seen him do it in St. Peter's Square but I remember the person next to me was very surprised and was yelling and jumping around. It really made the start of my senior year exciting!
– Meg Ross is a member of The Catholic University of America, class of 2016, majoring in architecture.