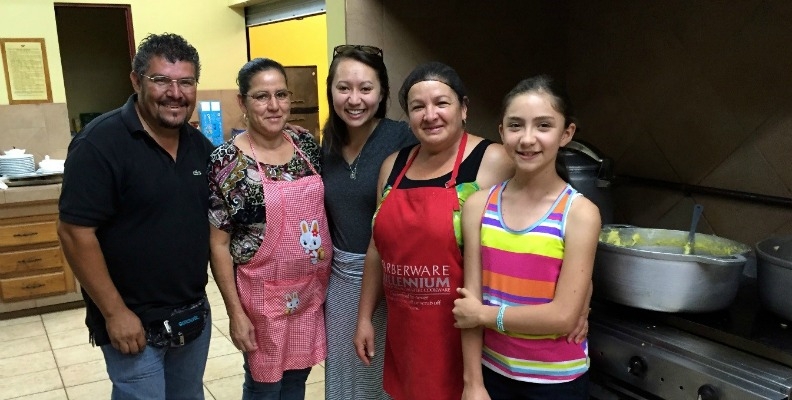 #WalkwithFrancis: Jackie Sardina
In the months leading up to Pope Francis's visit to the United States in September, Catholic University is highlighting the work members of the CUA family are doing in the community. The #WalkwithFrancis initiative coincides with the "Share the Joy, Walk with Francis" theme for the D.C. leg of the Pope's visit.
Below, Jackie Sardina, a 2015 graduate from Yorba Linda, Calif., with degrees in theology and philosophy and a music minor, reflects on a mission trip to Costa Rica with other CUA students in May. The trip was sponsored by CUA's Office of Campus Ministry. Sardina also has committed to a year of service in Ecuador with Rostro de Cristo, a volunteer and retreat group immersion program.
Our mission trip to Costa Rica was an incredible and eye-opening experience for us. In total we had 13 people, including Father Eric [de la Pena] who works in Campus Ministry with faith formation. We learned so much from our volunteer experiences and from the other students we met and befriended on our mission. Some of us helped paint schools and played with children, others worked at a shelter for homeless men. I was very thankful that I was able to care for mentally and physically disabled men and women at a center run by the Missionary Sisters of the Redemptive Heart of Christ. I was inspired by the sisters and their relentless love and care for their patients, who were often times difficult to handle and required intense physical aid. These sisters would wake up at 4:30 a.m. and go to sleep at 11 p.m. caring for these people who depend completely upon the sisters to give them a dignified living when no one else would give them one. I was also inspired by the joy and the humility of the residents of the center. The residents' disabilities kept them from taking care of themselves; even the simplest things such as eating or going to the bathroom were difficult. But they were always smiling and always ready to love whoever would give them a moment of their time. Lastly, I was inspired by the other CUA volunteers. It was an incredible sight to see them giving of themselves so freely to the people we met and to hear their stories about how their experiences in Costa Rica were changing and challenging them to be people of service. I am so thankful for our mission trip experience in Costa Rica and I am so inspired by the people I met there.
Want to share how you #WalkwithFrancis? Send us a photo via email hidden; JavaScript is requiredor tag your submissions #WalkwithFrancis on Twitter or Instagram. Please also send a few short sentences describing the type of service you do (for the Church, in the neighborhood, anywhere!) and what #WalkwithFrancis means to you and we will feature submissions on CUA's website and social media.