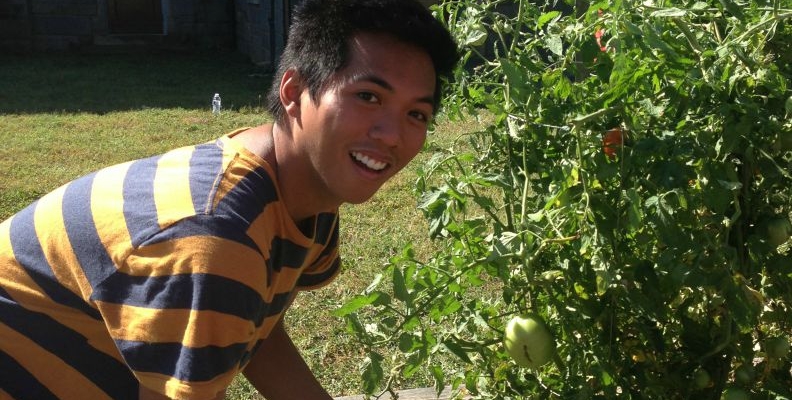 #WalkwithFrancis: Mat Maddatu
In the months leading up to Pope Francis's visit to the United States in September, Catholic University is highlighting the work members of the CUA family are doing in the community. The #WalkwithFrancis initiative coincides with the "Share the Joy, Walk with Francis" theme for the D.C. leg of the Pope's visit.
Below, Mat Maddatu — a community director with Residence Life in Centennial Village and an alumnus who earned his B.A. in psychology in 2012 and Master of Catechesis in 2014 — reflects on the work he's done in CUA's community garden. The garden was started in 2013 and fosters fellowship, service, and relaxation. Produce from the garden is donated to local charitable organizations in need of food.
"The CUA community garden is a great reminder for me that simple actions like digging, cleaning, planting, and watering can bring life not only to the garden itself, but also to other people in the food it produces. Being a steward for the Earth is such a great opportunity for me to look at other people and the world with appreciation. Every person in the community has the ability to use their time and talents to help our environment in the everyday decisions we make and the actions we take."
Want to share how you #WalkwithFrancis? Send us a photo via email hidden; JavaScript is requiredor tag your submissions #WalkwithFrancis on Twitter or Instagram. If you are a member of the CUA community, please also send a few short sentences describing the type of service you do (for the Church, in the neighborhood, anywhere) and what #WalkwithFrancis means to you. We will feature some submissions on CUA's website and social media.
The Archdiocese of Washington also has launched a #WalkwithFrancis pledge campaign, which encourages D.C.-area residents to take a pledge to follow the example of Pope Francis by serving in their community however they can. The pledges will be gathered via social media and on WalkWithFrancis.org. Thousands of the pledges will be compiled into a book that Cardinal Donald Wuerl, archbishop of Washington and chancellor of Catholic University, will present as a gift to the Holy Father during his visit.
For more information on the archdiocese's campaign or to make a pledge, go to WalkwithFrancis.org.