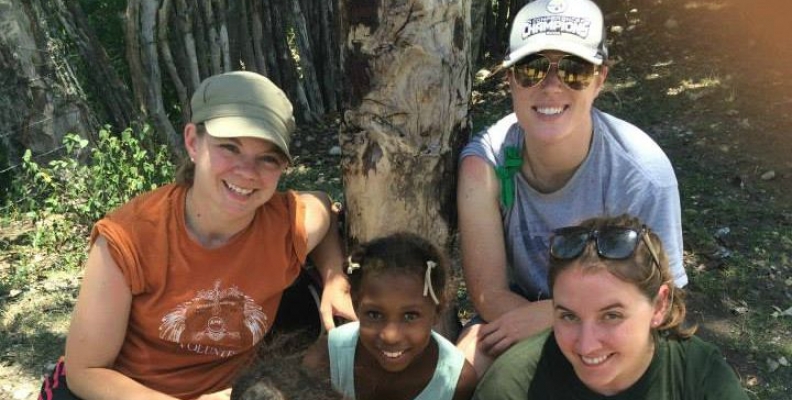 #WalkwithFrancis: Katie Bahr
In the months leading up to Pope Francis's visit to the United States in September, Catholic University is highlighting the work members of the CUA family are doing in the community. The #WalkwithFrancis initiative coincides with the "Share the Joy, Walk with Francis" theme for the D.C. leg of the Pope's visit.
Below, Katie Bahr (bottom, right)— a writer in the University Office of Public Affairs — reflects on the recent short-term mission trip she took to the Dominican Republic. Over the course of one week, her team of volunteers helped lay cement floors in seven homes, repainted a rural chapel, and painted religious murals on several local homes. The trip was led by the local non-profit Commissioned by Christ, which organizes mission trips for working adults and families.
"We worked in the same rural village for several days and it was amazing to get to know the local families over time. I was especially inspired by the warm welcome we received. Even though we were there to help them, the villagers were always looking out for us by giving us water, food, or making sure we had a shady spot to rest. It was humbling to see their generosity."
Want to share how you #WalkwithFrancis? Send us a photo via email hidden; JavaScript is requiredor tag your submissions #WalkwithFrancis on Twitter or Instagram. If you are a member of the CUA community, please also send a few short sentences describing the type of service you do (for the Church, in the neighborhood, anywhere) and what #WalkwithFrancis means to you. We will feature some submissions on CUA's website and social media.
The Archdiocese of Washington also has launched a #WalkwithFrancis pledge campaign, which encourages D.C.-area residents to take a pledge to follow the example of Pope Francis by serving in their community however they can. The pledges will be gathered via social media and on WalkWithFrancis.org. Thousands of the pledges will be compiled into a book that Cardinal Donald Wuerl, archbishop of Washington and chancellor of Catholic University, will present as a gift to the Holy Father during his visit.
For more information on the archdiocese's campaign or to make a pledge, go to WalkwithFrancis.org.