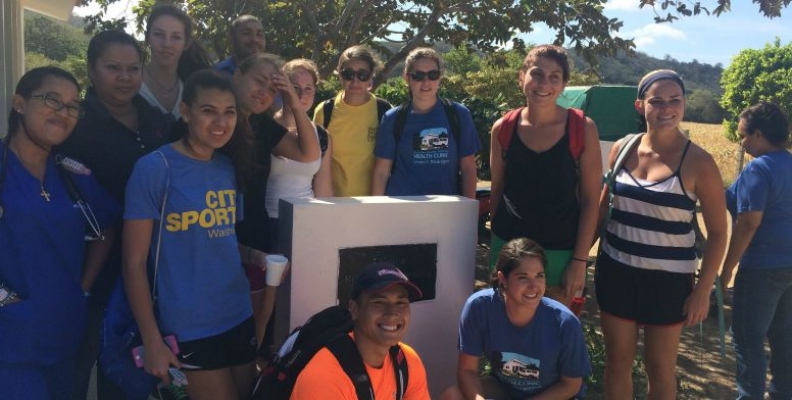 #WalkwithFrancis: Michael Nguyen
In the months leading up to Pope Francis's visit to the United States in September, Catholic University is highlighting the work members of the CUA family are doing in the community. The #WalkwithFrancis initiative coincides with the "Share the Joy, Walk with Francis" theme for the D.C. leg of the Pope's visit.
Below, Michael Nguyen, a senior nursing major from Silver Spring, Md., reflects on a trip he took to Nicaragua last winter with the School of Nursing's Spanish for Health Care Program.
Experiencing a different culture while serving those in need is essentially living the best of both worlds. Altogether, 11 nursing students in the Spanish for Health Care Program at The Catholic University of America participated in serving the Limon community of Nicaragua. During our one-week stay, we all rotated different responsibilities and roles to better help the Limon community. Some of us triaged and provided care for patients in the Roberto Clemente Health Clinic, while others crafted informational health promotion posters and visited other nearby clinics to provide health teaching sessions on prevalent diseases, diabetes, oral hygiene, and preventative measures of wearing helmets while on motorcycles. On days when very few patients arrived at the clinic, we always tried to help in any way we could, whether it was tending to the clinic's vegetable garden or visiting a clinic volunteer's home to clean up her yard to build a garden. Personally, I absolutely loved the experience that I had in Nicaragua because of the positive influence my classmates and I had on everyone we met and because of the cultural insight we gained from being in a Latin American country.
Our service in Nicaragua definitely ties to the Catholic teaching of human dignity. One of our duties and responsibilities as Catholics is to ensure that every person has a fundamental right to life and the right to things required for human dignity, such as health care. While in Nicaragua, 11 nursing students and our professor endeavored to tackle the issue of health care. By helping out in the health clinic and providing information on preventative care, we essentially spread awareness on the matters of health and increased access to care.
Want to share how you #WalkwithFrancis? Send us a photo via email hidden; JavaScript is requiredor tag your submissions #WalkwithFrancis on Twitter or Instagram. If you are a member of the CUA community, please also send a few short sentences describing the type of service you do (for the Church, in the neighborhood, anywhere) and what #WalkwithFrancis means to you. We will feature some submissions on CUA's website and social media.
The Archdiocese of Washington also has launched a #WalkwithFrancis pledge campaign, which encourages D.C.-area residents to take a pledge to follow the example of Pope Francis by serving in their community however they can. The pledges will be gathered via social media and on WalkWithFrancis.org. Thousands of the pledges will be compiled into a book that Cardinal Donald Wuerl, archbishop of Washington and chancellor of Catholic University, will present as a gift to the Holy Father during his visit.
For more information on the archdiocese's campaign or to make a pledge, go to WalkwithFrancis.org.