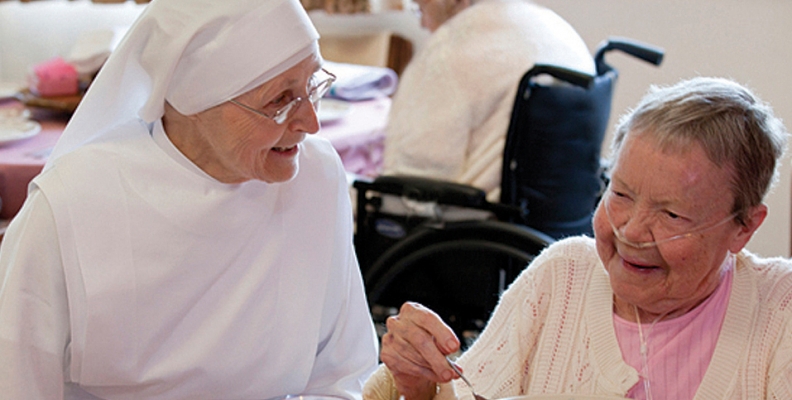 Linda Plitt Donaldson: Meeting the Thirsts of the World
I am a big fan of Catholic sisters, and I deeply admire the profound spiritual wisdom and leadership that emerges from the Leadership Conference of Women Religious (LCWR). Although born and raised Catholic, I only really got to know Catholic sisters after becoming a social worker in the homeless community of Washington, D.C., where we labored together as "farmers in the field of justice."
My 22 years of deep experience with Catholic sisters solidified in me that they are among the most credible and authentic witnesses to the power of God's love in the world. Pope Francis's message and way of being in the world reflects many of the same principles that I experienced in Catholic sisters, i.e., the primacy of encounter with people who are poor and marginalized, joyful hope in living the gospel, and fearlessness in speaking truth to power.
At the recent LCWR assembly, Rev. Stephen Bevans, S.V.D., offered a keynote address identifying some thirsts of the world for which there is universal longing.
In a world with many corrupt and dysfunctional political systems, unethical and exploitive business practices, and widely disseminated mistruths and misconceptions, we long for the water of integrity.
In a world filled with ceaseless human suffering, poverty, and war, we long for the wine of hope.
In a world of racism, discrimination, exploitation, and oppression, we long for the nectar of justice.
In a world that sometimes feels full of despair and hopelessness, we long for the elixir of beauty. Father Bevans quotes Mary Lou Kownacki, O.S.B., who wrote, "beauty uncovers the lie of violence, despair, and lack of hope and helps us imagine a world beyond our present reality.
Father Bevans claims that these thirsts are gifts of the Holy Spirit who stirs them within us so we are moved to act in the world with integrity, hope, justice, and beauty. Catholic sisters have been witnesses to this way of life for centuries; Pope Francis is a witness to this way of life for the world now. Let us join with him and our Catholic sisters to meet the thirsts of the world and thereby start to slake our own thirst.
– Linda Plitt Donaldson is an associate professor at The Catholic University of America National Catholic School of Social Service.