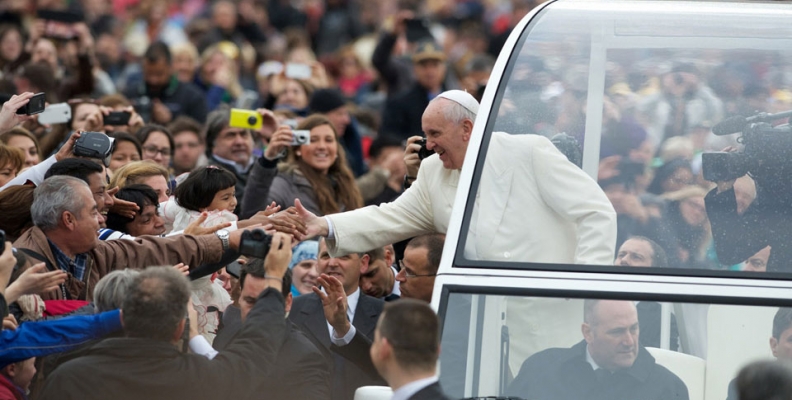 Archdiocese of Washington Announces Parade Route for Pope Francis in Washington
On September 23, after meeting with President Obama at the White House, Pope Francis will drive a parade route between the Ellipse and a portion of the National Mall in the Popemobile. This will be an opportunity for the estimated tens of thousands of people expected to gather in Washington to see the Holy Father while he is visiting the nation's capital, September 22-24.
The viewing area of the open motorcade route is free and open to the public. No tickets are required, however spectators will need to pass through security. Security gates will open for the Ellipse and the National Mall at 4:00 a.m. on September 23 and will close at 10:00 a.m. No one will be admitted into the area after that point in time. No food or drink may be brought in from the outside, but concessions will be available for purchase. Once inside the perimeter, attendees will not be allowed to leave and re-enter until the Holy Father's Popemobile tour is complete. For a full list of restricted items, please visit www.walkwithfrancis.org/visit.
People are also invited to gather on the grounds of the Washington Monument to watch live coverage of the Holy Father's day on a large video screen. The pope's schedule will include his address to the U.S. bishops at the Cathedral of Saint Matthew the Apostle, as well as the Mass of Canonization for Blessed Junipero Serra. The afternoon Mass will be celebrated by Pope Francis on the east portico of the Basilica of the National Shrine of the Immaculate Conception and The Catholic University of America in the afternoon. Between his address to the bishops and the live coverage of the Mass, a pre-Mass program will be aired on the large screen. The Canonization Mass at the basilica is expected to begin around 4:15 p.m. Participants who watch the live coverage will be permitted to bring in signage, food and drinks into the area, provided they are in compliance with guidelines set by the National Park Service.