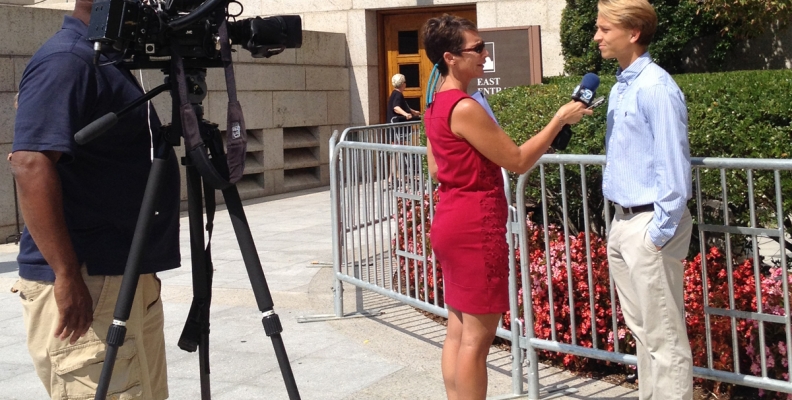 Media Attention Centered on Catholic University
With the world's attention on the Holy Father's first visit to the United States, some 900 members of the media will be on the campus of The Catholic University of America on Sept. 23 to cover the Mass celebrated by Pope Francis on the East Portico of the Basilica of the National Shrine of the Immaculate Conception. In anticipation of the historic Mass, many media outlets are already lining up to hear from CUA faculty experts and from staff and students who are working hard to prepare for the big day.
Washington, D.C., TV station ABC7 sent a crew on Friday afternoon to interview a few of the many students who will serve as escorts for the deacons who will distribute communion to the 25,000 worshippers on the University's Mall.
With the backdrop of the Basilica adorned with a giant banner welcoming Pope Francis, senior engineering student Tyler Zimmerman told reporter Suzanne Kennedy, "It's great to help out with something so important and so distinctive not just for our University but for the Catholic Church in general." The segment aired on both the 4 p.m. and the 5 p.m. broadcasts.
Two other student communion escorts were interviewed by Kennedy: junior Angela Fragale and senior Tom Scalfaro.
Just across the University Mall at the same time, the local CBS Baltimore station had a crew at the Edward J. Pryzbyla University Center, where they asked students about the level of excitement on campus. In addition they spoke with staff member Amy Rowland, a program coordinator in the Office of Campus Ministry. That segment also aired on Friday on the station's 4 p.m. and 5 p.m. broadcasts.
For more media reports featuring members of the CUA community, visit the CUA News & Media page.