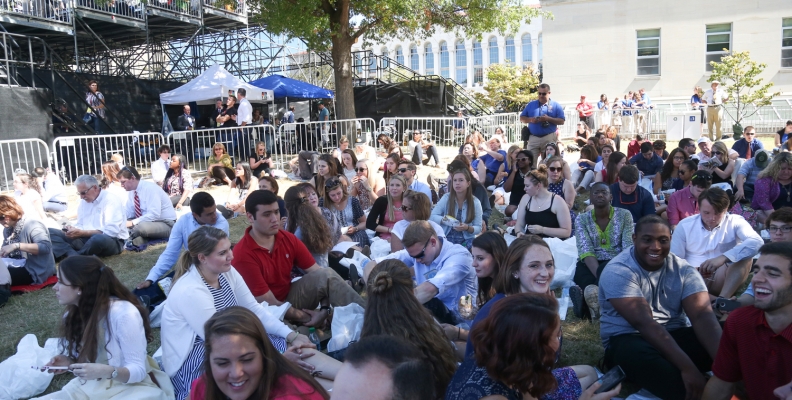 Greta Haussmann: Going through Papal Withdrawal
For the past few weeks I have been going through something I would like to dramatically describe as "papal withdrawal." It was such an unimaginable experience to have Pope Francis on our campus, and in our country. I cannot believe that it actually happened. There was a time before the papal visit that I could not believe that the Holy Father was actually coming to CUA, and now I cannot believe that he actually came to our campus. I must say that I had no idea what it would feel like to experience a papal Mass, in the United States, in the District, at Catholic University.
The real reason that I am experiencing this "papal withdrawal" is because there was such a joyous attitude in our nation and on our campus as we prepared for the Apostolic Visit of Pope Francis. People couldn't stop talking about all of the beautiful words and actions of the Pope, people were in awe of our Holy Father, and they wanted nothing more than to meet him. People were desperately trying to learn more about the Holy Father and the Catholic Church — there was a sense of renewal happening all around me.
It is disappointing to admit that this joyous attitude that Pope Francis's visit elicited is slowly fading. We are falling back into our monotonous routines and mundane habits. We are allowing ourselves to forget the grace and joy that we were so blessed to experience a few short weeks ago. It is important for all of us to remember that Pope Francis did not come to elicit momentary emotions; rather he came to renew our spirits so that in turn we can renew the Church and share in the mission of the New Evangelization.
In his apostolic exhortation Evangelii Gaudium, Pope Francis calls us to live the joy of the gospel daily: "I invite all Christians, everywhere, at this very moment, to a renewed personal encounter with Jesus Christ, or at least an openness to letting him encounter them; I ask all of you to do this unfailingly each day."
Whether waiting for Pope Francis motorcade to drive by or waiting for class to start, remember that you are called to be the joy of the Gospel. Let us all learn from Pope Francis's apostolic visit that we are all fitted to proclaim the New Evangelization with our very lives.
— Greta Haussmann is a junior at The Catholic University of America majoring in theology and religious studies, and media studies.