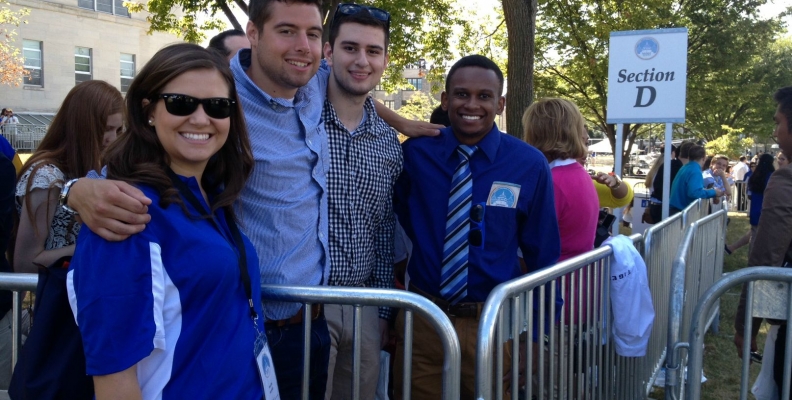 Getting in Place Early is Part of the Experience
For ticketed guests at the papal Mass, waiting is part of the experience. On big screens, the early faithful watched Pope Francis on his parade route along the Ellipse. They cheered along with those who had lined the streets for a glimpse of the Pontiff.
In their seats at noon, CUA alumni Elizabeth Briones, B.A. 2014, and Jacqueline Corbin-Armstrong, B.A 1985, M.S.M. 2015, marveled at the view of the altar and made fast friends. "Catholic University is my home. It was very important for me to come back and be here for the visit of the Holy Father," Briones said.
"I agree," said Corbin-Armstrong. "It's so wonderful to be back on campus and to celebrate Mass with this community that is like family." After Mass, Corbin-Armstrong is headed to the World Meeting of Families in Philadelphia where she hopes to see Pope Francis again, after serving as music director on Friday for an Archdiocese of the Military Services Mass.
Susana Quinonez, who is originally from Peru, became emotional when she saw her seat and her view of the altar. She is an employee of Georgetown University, and got her ticket from a co-worker who won it through the university's lottery and gave it to Quinonez knowing what this Mass means to her.
"This is a dream come true," said Quinonez. "It touches my heart and soul that the Mass will be celebrated in my native language."
Many students established their turf early in the standing-room section in hopes of getting a good view of Pope Francis when he arrives on campus.
"This Pope is someone you want to emulate," said Ryan Goldschmidt, a senior nursing student from Hillsborough, N.J. "It will be amazing to see him here, and to show our school off to the world."
With four hours to go before Mass, friends from the class of 1988, Lisa Geis and Tracey McCormack, were catching up when they realized this would be the first time they were attending Mass together since their Baccalaureate Mass. "It's pretty cool to share this experience with old friends."
Mass timelapse from CUA Video on Vimeo.