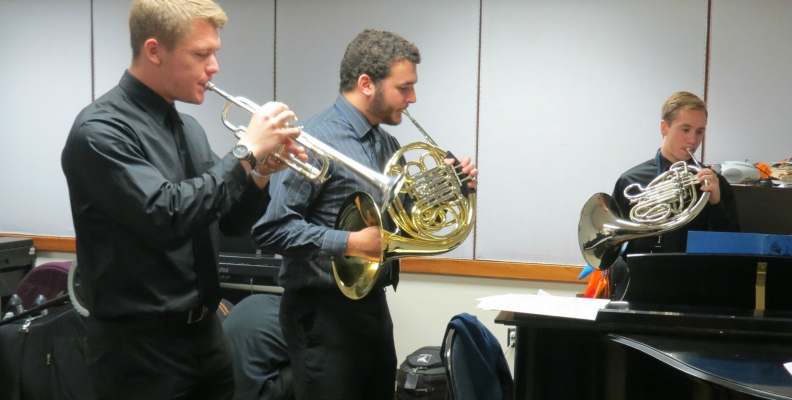 University Musicians: 'Our Goal is to Glorify God'
Even though their official call time was not until noon, musicians from the CUA Symphony Orchestra and the University Chamber Choir were arriving on campus around 10 a.m., Wednesday, to warm up in Ward Hall and pick up their instruments, which were locked up overnight for security reasons.
As she walked to Ward Hall across a campus that was still mostly calm, viola player Megan DiGeorgia, who graduated in 2015, said she was still in a state of disbelief that she would be playing for a papal Mass in only a few hours.
"It's such an amazing experience," she said. "It still hasn't quite hit me how big of a deal this is. I think my brain knows it, but I don't know if I'm going to really understand it for a little while."
DeGeorgia was also excited that the Pope would come to her own University campus.
"It's so special for the people who are here right now," she said. "As musicians, our goal for today is to glorify God through the gifts we've been given."
Christine Laird, a master's student and member of the chamber choir, was walking toward Ward Hall at the same time. She said she also had a hard time comprehending what the day would be like.
"We've been rehearsing for several weeks, but I don't think we quite get the magnitude of it," she said. "I don't think it will be until it's all put together, when all the people are here, that we will finally understand and see what we are singing for. It's going to be really overwhelming."
Downstairs in Ward Hall, a trio of brass players were retrieving their instruments and warming up in the piano lab.
Junior Matthew Fitzsimmons, a trumpet player, said he felt honored and excited to be playing a role in today's papal Mass.
"It's hard to believe that it's actually happening," he said. "I've never been part of something this big. It's a huge honor."
Freshman Christopher Gillie, a french horn player, was also warming up before the Mass, which more than 25,000 people are expected to attend.
"This is definitely nerve-wracking," he said. "This is the largest audience I'll probably ever play for — probably the largest audience anyone here will ever play for."
Having only started college a month ago, Gillie said the rehearsals for the papal Mass were a great way to meet other students, alumni, and local musicians.
"I didn't know I'd have this opportunity," he said. "It's a pretty cool way to start my college career."
Faculty member Eric Moore, who teaches french horn, was also eagerly awaiting the day's Mass. A former member of the U.S. Navy Band, Moore said he has played for presidents and other government officials in the past, but that playing for a pope is unique.
"I came up here on the Metro and saw people who have come from long distances for this," Moore said. "As a musician, this is different. It's not like playing for a military or political figure. This is something bigger than that and more inspiring than that."