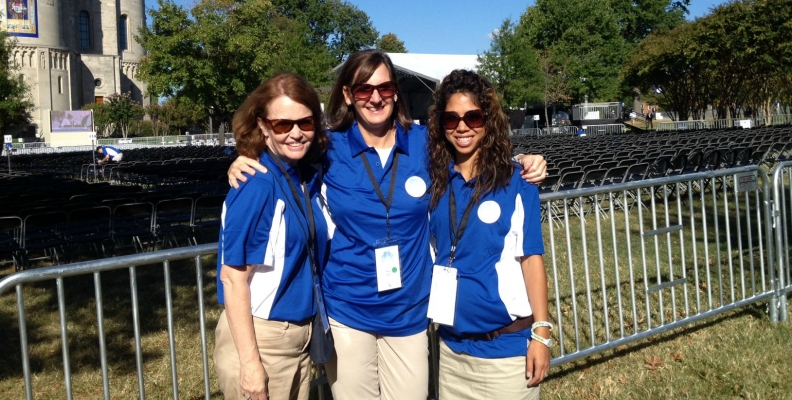 Volunteers in Place Early with Anticipation
One thousand volunteers were the first to arrive this morning between 7 and 8 a.m. After picking up their credentials and official blue polo shirts, they had a few moments to enjoy the blue sky over the campus of Catholic University and the Basilica of the National Shrine of the Immaculate Conception. In the relative calm before 25,000 ticket holders began coming through the security check points, many took time to reflect on the meaning of the day.
"I feel so much pride that my alma mater and the place I work is hosting the Pope. What a powerful moment. My prayer on the way here this morning was that this papal visit will change people. For those with strong faith, that it will only get deeper. For those lost in their faith, that this will plant a seed of hope," said Emmjolee Mendoza Waters, associate director of Campus Ministry.
"This is a once-in-a-lifetime experience," said freshman business major Sarah Lynch.  "I decided the minute we got the email this summer about the opportunity to volunteer that that's what I wanted to do."
Her friend Briana Marcinauskis, also a freshman business major, agreed. "I didn't want to just watch it, I wanted to be a part of it. I want to walk with Francis and that's why I volunteered."
Kyra Lyons, executive director of the Office of Alumni Relations, is on duty as a seating volunteer and as she geared up to take her spot on the lawn, she said she was looking forward to seeing alumni back on campus for this historic event. "I'm so pleased that we were able to provide tickets to so many alumni. What a wonderful occasion for them to reconnect with their alma mater. I can't wait to see them all and share our pride in Catholic University."