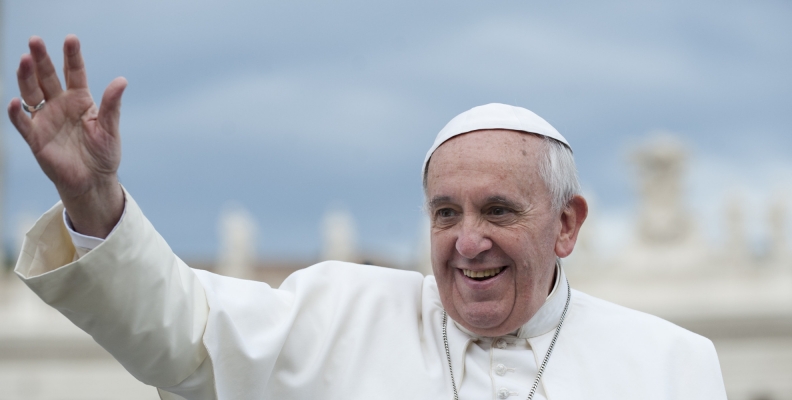 Father Eric de la Pena: "You are Peter, and upon this rock I will build my church" (Mt. 16:18)
For a while now, we have been preparing ourselves for the momentous arrival of Pope Francis at The Catholic University of America. We have done service days for Pope Francis and Spanish Masses; we have venerated a relic of Blessed Junipero Serra and attended prayer vigils and lectures to make ourselves duly receptive of the Holy Father's message. We have seen over the last few days our campus prepared for the arrival not only of the guest of honor, but also for the throng that will converge to meet the Pope here. As all these events unfold, the reality of something significant is coming focus, and our excitement knows no bounds! This week, the revered leader of the Catholic Church, the Vicar of Christ on earth is coming to us, and together we greet him with grateful affection, "Welcome to CUA, Holy Father! Welcome Pope Francis!"
Huge Papal events like Wednesday's Canonization Mass on the Eastern Portico of the Basilica, overlooking CUA's lawn, can make the Holy Father seem more of a big time celebrity, and less of a messenger of Christ. Surely, everyone who comes wants to get a closer glimpse of him or a handshake if possible and even a Papal-selfie if ever allowed. Cameras will keep on clicking until the Pope is gone. While these gestures of excitement can be expected for a Papal event, the real challenge to everyone is the internalization of his words, during and after his visit. When all has been said and done and the campus eventually returns to its normal course, how many would really remember and care to practice what they heard the Pope preach? Pope Francis travels the globe not to promote himself, but to present Christ to the world.
Like St. Peter, Pope Francis had to leave behind his personal agenda in order to follow Christ's, especially after he assumed the Petrine Ministry. There's a beautiful tradition in the Church of the pope taking a new name at the time of his election. It symbolizes the new role that the pope undertakes in serving the Body of Christ. In the Gospel, we see Jesus changing the name of Simon, which means reed in Hebrew—a grass that easily bends and sways with the wind—to Peter, a name that signifies rock—something solid, upon which one can securely build a house. For Simon to become Peter, he had to leave behind everything to follow Christ. Peter's personal wisdom and prudence are no longer enough. He must rely upon the grace which God provides as Christ indicated, "flesh and blood has not revealed this to you, but my heavenly Father" (Mt. 16:17). Let us therefore, heed the Pope's message and keep it fresh in our hearts and minds as proof that we have not only welcomed him to our campus but also in our hearts.
— Father Eric de la Pena, O.F.M. Conv., is an associate chaplain for faith development at The Catholic University of America.