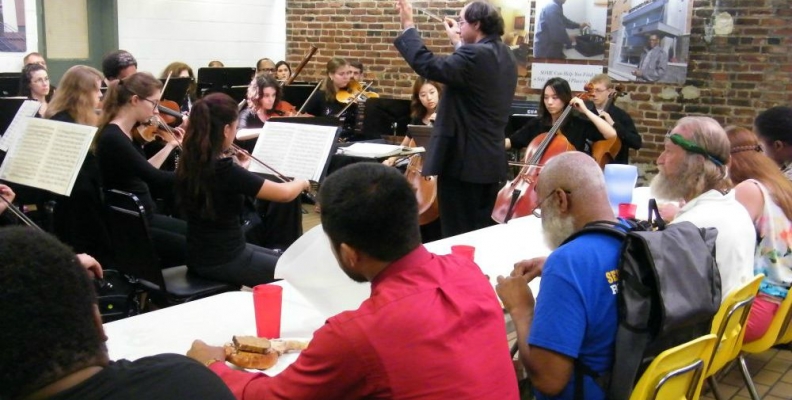 CUA Orchestra Members Perform at So Others Might Eat
In only a few days, the members of the University Symphony Orchestra will be among the musicians performing for Pope Francis as he celebrates Mass at the Basilica of the National Shrine of the Immaculate Conception. But on Saturday, Sept. 19, the orchestra performed for a significantly different audience: the clients of the interfaith community-based organization SOME (So Others Might Eat).
As a nonprofit, SOME provides food and support to the poor and homeless in Washington, D.C. According to the organization's website, there are 7,298 homeless men, women, and children living in D.C. SOME serves them by offering affordable housing, job training, addiction treatment, and mental health counseling.
On Saturday, the orchestra performed two pieces for the clients in the SOME dining room, as clients were eating lunches of chicken and rice. Works performed included Mendelssohn's Italian Symphony No. 4, first movement, and Beethoven's Symphony No. 5, fourth movement.
University faculty Simeone Tartaglione, director of the orchestra, said the event was intended to help students prepare spiritually for the papal visit.
"Pope Francis is really an inspiration for us," Tartaglione said. "He inspired us to bring the pieces we're going to do for him to the people who won't be there.
"As a Catholic institution, we should remind our students that life has different conditions and that it's not a matter of fault or guilt," he said. "This is something we can do. We can be a sign, plant a seed in somebody maybe to help them look for something better."
Violinist Shinya Blattmann, who is pursuing her master's degree in performance, said she is thrilled at the opportunity to play during Wednesday's papal Mass.
"I think it's going to be a highlight of my life," she said.
For her, playing at SOME was a good reminder of her own blessings.
"We can go to the Kennedy Center or to a concert anytime we want, but they can't do that," she said. "It's nice to play for them and to see them happy."
Likewise, violinist Aurora Wheeland, a student in the school of law, said she was happy to bring classical music to people who may not ordinarily have access.
"A lot of times, people think of classical music as kind of an elitist thing, but it's meant to be shared with everybody," she said. "I find that everybody can respond to classical music, whether it's their favorite kind of music or they've never been exposed to it before. It's really powerful."
David Peterson, a first-year doctoral student in conducting, will be one of the cover conductors for Wednesday's papal Mass. He said the concert at SOME was a way for the musicians to connect with those in need in the local community.
"If we can give this music to people and even one person can dream for half an hour, then it's worth it for me," he said. "Everyone is here because they want to be here. Our call time this morning was 10 a.m. and people were at the School of Music at 9:30 ready to go."
David Bond, who is earning his master's in conducting, has been working as the manager of the orchestra in preparation for the papal Mass. Over the past few weeks, he said he has enjoyed making arrangements and seeing the alumni who have come back to play in the orchestra. He said the concert at SOME was a good opportunity for the musicians to share their gifts with those in need.
"These people need food of course, but I think they also need beauty and art and music in their lives," he said. "The Pope is so invested in the lives of the lowest of the low and in my opinion, playing beautiful music is a way to help them that is right up there with feeding them. Everyone has their gift to give."
SOME Music Concert from CUA Video on Vimeo.