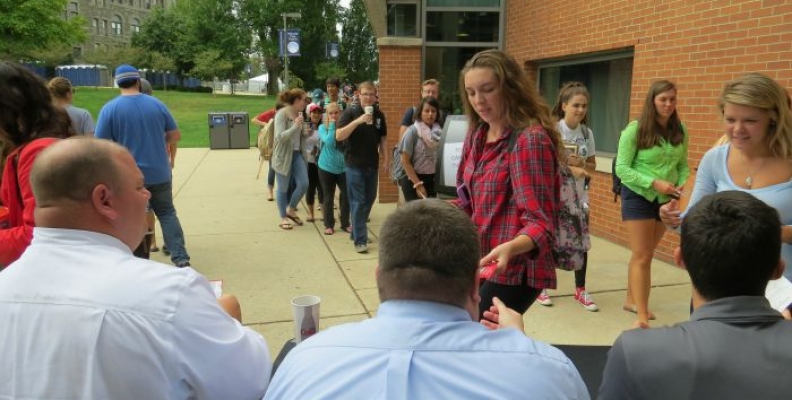 Campus Filled With Activity the Day Before Papal Visit
Catholic University is alive with excitement Tuesday afternoon as the University community finishes up last-minute preparations for Pope Francis's visit on Sept. 23.
As musicians — including the CUA Symphony Orchestra and the University Chamber Choir — practice their pieces on a side stage, reporters from local and national television stations are readying their camera equipment on top of the newly-constructed media riser in front of John K. Mullen of Denver Library. Faculty experts have been speaking with the media, including President John Garvey, who joined reporter Lester Holt from NBC Nightly News for an interview on the roof of O'Connell Hall.
The liturgical committee is in high gear at the Basilica, preparing the altar, hanging the crucifix, and preparing tens of thousands of communion wafers — including a low-gluten variety — for tomorrow's Mass.
Elsewhere on campus, students are navigating new routes as they walk between classes, which are still in session. In addition to the large number of bike racks put in place earlier this month for security reasons, students now face new obstacles: rows of porta-potties, ATMs, and quickly constructed food and souvenir stands.
Many students have been finding time during the day to investigate the scene on the University Mall, where 15,000 seats have been set up and numbered in preparation for the canonization Mass.
In the early afternoon, students lined up at the information desk in the Edward J. Pryzbyla University Center, where the office of Jon Sawyer, associate vice president for student affairs and the dean of students, was distributing 700 tickets for students to view the Pope's address to a joint meeting of Congress from the West Front of the Capital. The tickets were awarded to the University from the House of Representatives.
Freshman Briana Marcinauskis was among the students who received a ticket to the Capital.
"I was going back and forth (on whether I wanted the tickets) because I know I'm going to be so tired, but then I thought, 'It's a once-in-a-lifetime opportunity," she said. "I got down (to the Pryzbyla Center) and they had five left so I grabbed two of them."
Walking around campus the day before Pope Francis's visit is "a little overwhelming," Marcinauskis said. "Hearing all the music all day has been crazy, but people are really excited."
Last Day Preps & Rehearsal from CUA Video on Vimeo.