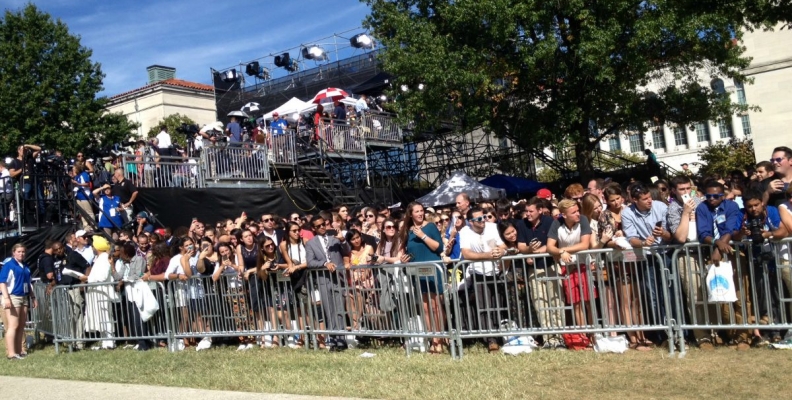 Thrill of a Lifetime: The Pope in Our Presence
He is often called the "people's pope" and that couldn't have been more evident than when Pope Francis arrived on CUA's campus just before 4:00 pm on Wednesday, Sept. 23. The crowd of 25,000 worshippers seated and standing on grassy areas across CUA's campus erupted in cheers. They chanted Viva El Papa as the Holy Father made his way down Senior Walk on the University Mall. He waved to the crowds and flashed his infectious smile.
Many of CUA's students were positioned behind the bike rack fencing in standing room sections along the short parade route. They had been waiting under bright blue skies since the morning. And the moment did not disappoint. The Pontiff who wears sensible shoes and urges his followers to care for the poor and the environment was in their presence.
"I tried to prepare spiritually for this day. But it didn't really hit me until the moment that he rode past and waved to us," said Claudia Seckinger, a junior psychology major from Vero Beach, Fla. "That is something that will live in my heart. To see the Holy Father up close and to attend a papal Mass is a once-in-a-lifetime experience."
"It was amazing. It was the highlight of my life," said Shannon Edgar, a sophomore politics major from Pittsburgh, who was standing in section D, a prime location to view the arrival of the Popemobile.
The Pope's visit to Catholic University and the Basilica of the National Shrine of the Immaculate Conception to celebrate Mass and canonize Blessed Junipero Serra took months of planning. Excitement had been building on campus since April when it was officially announced that Pope Francis would be coming.
"I was here when Pope Francis was elected in March 2013. I remember the bells ringing on campus," said Jacob Maclin, a senior mechanical engineering student from Cleveland, Ohio. "I had heard stories of when Pope Benedict XVI visited CUA in 2008, and I never imagined this new pope would visit before I graduated. This means so much to me. I've gone to Catholic school all my life. This is beyond exciting."
It took 1,000 volunteers to prepare the campus to welcome 25,000 pilgrims from across the nation. Cecilia Cicone, a senior theology student from Newark, Del., was one of more than 500 students who were part of that volunteer squad. "It was so cool to be involved in the distribution of Holy Eucharist as a Communion escort, which is the whole reason we celebrate Mass. My dad saw me on national TV as I stood with a Deacon. He took a picture of the screen and texted it to me."
Shelby Kestler, a senior politics major from Baltimore, was also a student volunteer. "I feel so lucky. I saw the Holy Father during my semester in Rome and now I got to see him again on his first trip to the United States," she said. "We are The Catholic University of America. I don't know where else I could get these opportunities. In May, I will celebrate my graduation in the very spot where Pope Francis celebrated Mass. We are pretty lucky."