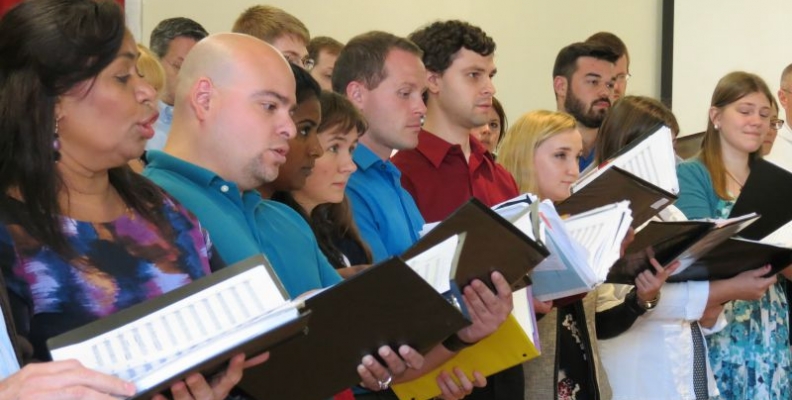 University Musicians Rehearse for Papal Mass
Nearly 70 musicians from the Benjamin T. Rome School of Music gathered in Ward Hall Thursday for a joint rehearsal of the repertoire to be performed during next week's papal Mass. The musicians, representing both the CUA Chamber Choir and the University Symphony Orchestra, will be among those performing as Pope Francis canonizes Blessed Junípero Serra on Sept. 23.
Professor Simeone Tartaglione is conductor of the orchestra, which is composed of 40 students, faculty, and alumni. The orchestra began rehearsals on Sept. 3.
"Even with the limited number of rehearsals we had, everyone stepped up to the challenge and prepared for a wonderful performance, inspired by the shining personality of Pope Francis," said Tartaglione.
Professor Leo Nestor, who will be conducting the orchestra and chamber choir of 28 singers during the Mass, said he is looking forward to Wednesday's papal Mass. Prior to the Mass, his choir will have had only three weeks of rehearsals.
"It really puts the responsibility on us to prove what kinds of musicians we are," Nestor said. "Having a beautiful voice is important, but if you can't pick up this piece of music and sing it beautifully the first time then we are not doing our job as professors. Those who are performing at this Mass, a single sophomore through senior doctoral students, alumnae and faculty, are among our very finest."
Among the pieces to be performed during Wednesday's Mass are three compositions by Nestor, including the introit, the communion antiphon, and an original work that will be performed during the communion rite, "I Am the Living Bread."
"It's the fourth time I've been commissioned to write for the Holy Father when he has come to the United States," said Nestor. Previously he has composed pieces for Pope John Paul II's visits to Los Angeles in 1984 and to St. Louis in 1999, as well as Pope Benedict XVI's visit to Washington, D.C., in 2008.
"We could not be more honored," Nestor said, adding that CUA musicians are most moved to join with Pope Francis in celebrating the Eucharist. "He's coming to break bread with us, to preside at the Eucharist, which is what Jesus Christ commanded us to do every day of our lives. It's both durable and exceptional."
Tartaglione also said he is "extremely honored and fortunate" to have a part in the papal Mass.
"It's really touching that I will be welcoming with the prelude the Pope to the States. After living in Rome for so many years, it's really very emotional in many way bringing together my past, present and future. For me as a Catholic he is an inspiration in our daily life on how relate to others and try to make the world a better place for all." he said. "I'm sharing all my passion and knowledge with the players so to work together making everything sound as beautiful as the importance of the event and Pope Francis deserves."
Prior to the papal Mass, the orchestra will give two concerts for the clients of the interfaith community-based organization SOME (So Others Might Eat) on Saturday, Sept. 19. Concerts will take place at 11 a.m. and 1 p.m. and will include pieces to be performed during the canonization Mass, including Mendelssohn's Italian Symphony No. 4, first movement, and Beethoven's Symphony No. 5, fourth movement.
"Performing in that setting will be thought provoking for us and helpful to the persons using the facility," Tartaglione said. "I thought it was a nice gesture to bring what we are doing for the most important person in the Catholic religion to people who may not be the first priority in society."