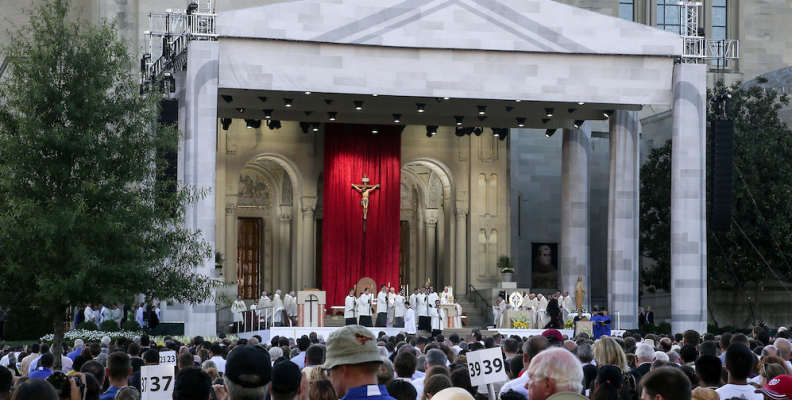 Anne Reeser: 'What a Wonderful Group of Students You Have at CUA'
I want to thank [Catholic University] for allowing me the opportunity to have a ticket for this memorable event, one that I will never forget. I am an online doctoral student who flew in from Jacksonville, Florida on Tuesday night and came to campus at 10:15 a.m. prior to the gates opening at 11 a.m. Section D was a fantastic place to be with some of the best view of Pope Francis and the entire Mass and celebration.
The event was very organized and seemed to flow smoothly for all those who followed instructions. All of the students I had encountered were pleasant, happy, smiling, respectful, mannerly, and full of school pride – a real credit to CUA. I sat with a group of students for several hours while we waited, and they were a true pleasure to be around. The volunteers worked so hard and were extremely helpful, and continued to smile and be helpful and pleasant to all those they encountered.
I had heard on EWTN that there were some complaints from people not being able to get to their ticketed seats. I will tell you first-hand the reason for this was that they arrived late and did not follow the instructions, but still expected to "be seated by someone" after the Secret Service closed their area. At this point, they proceeded to walk through section D, pushing their way through all of the students, and myself, who had been sitting there for at least 3 hours waiting as we were told. But, as students of CUA, they remained kind and respectful, making room for everyone.
CUA did an excellent job in coordinating every aspect of this event. The security at the gate was extremely thorough and all of the officers and security did a phenomenal job keeping us all safe.
I just wanted to express my thanks and let you know what a wonderful group of students you have at CUA. This makes me proud to have chosen CUA and proud of each one of them, wishing you and them every wonderful blessing now and in the future.
– Anne Reeser, MSN, ARNP-BC.