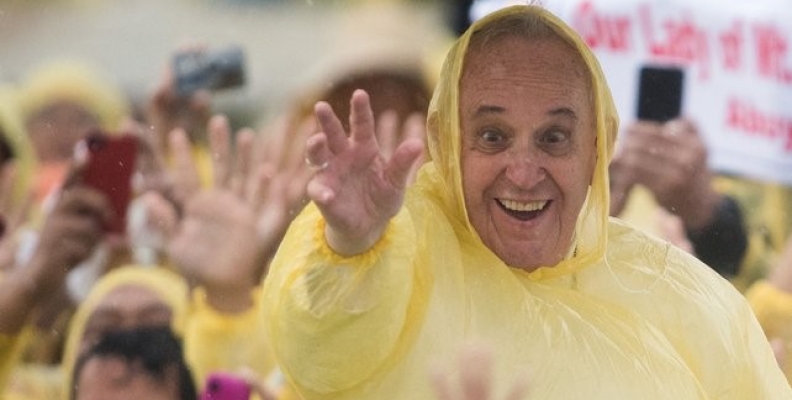 Father Eric de la Pena: "Master, to whom shall we go?" (Jn 6:68)
One of the most moving encounters that Pope Francis had this year was his meeting with the survivors of typhoon Haiyan in Tacloban, Philippines. His outdoor Mass last January which also happened on a stormy day was reminiscent of the catastrophic event that took place in that very same place in November 2013. Haiyan brought strong winds and surging waves from the sea that engulfed the island, leaving a trail of death that took more than 6300 lives. The aftermath from the devastation left many wondering if God even cared about what the people went through in that calamity.
Pope Francis was visibly moved by the human suffering he found in Tacloban. Wearing a yellow plastic raincoat like the rest of the people during the Eucharist, he very compassionately told them, "We have a Lord who is capable of crying with us, capable of walking with us in the most difficult moments of life. So many of you have lost everything. I don't know what to say to you. But the Lord does know what to say to you. Some of you have lost part of your families. All I can do is keep silent. And I walk with you all with my silent heart."
The words of Pope Francis echoe Peter's sentiments to Jesus in the Gospel, "Lord, to whom shall we go?" When tragedy strikes, when plans fail, when hopes are dashed and we feel down, Pope Francis gently reminds us to come to Jesus. He is the true Friend who will never let us down no matter how bad life situations may turn out to be. But in order that God's compassion may not be just sympathetic words, Pope Francis made sure that his prayers were followed by action. After celebrating the Eucharist, he then welcomed the survivors to a luncheon with him where they meet him personally. Beyond that, the pope also gave $150,000 to an emergency fund to help the victims. For Pope Francis, word and action are two sides of the same coin, that is, the Gospel.
At CUA, we too try to follow along the pope's compassionate footsteps. Just a few days after the typhoon, a campus Mass was offered for the victims and fund raising events were organized to contribute to the needs of Tacloban. In fact, Campus Ministry continually looks for ways to bring God's love to the needy not only during moments of calamity but throughout the year. On September 13 of this Fall Semester, for example, we will sponsor a service day to honor the Pope in the days leading up to his visit. We pray that more students will participate in this joyful experience of sharing their gifts and blessings so that others may know that God loves them. Life can surely get tough, but as long as "charity and love prevail, there God is ever found."