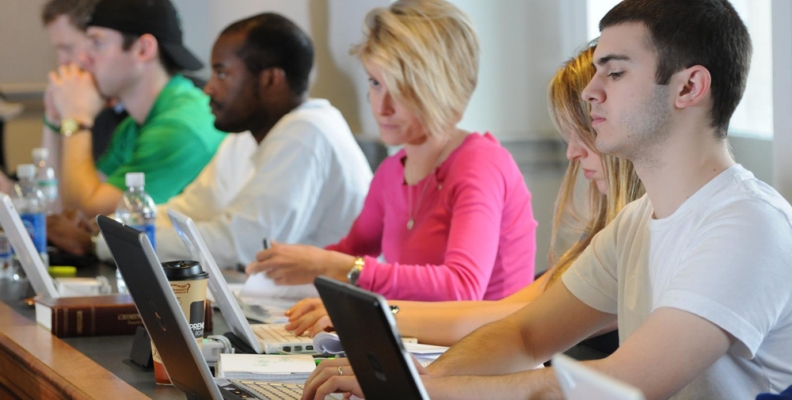 Lucia Silecchia: "Work is Sacred"… and Welcome Back!
I am not naïve enough (or pompous enough!) to believe that Pope Francis selects the topics for his weekly audiences based on what might be happening in my life on any given Wednesday. But, I had to smile when I saw that on precisely that Wednesday when we formally welcomed our new law students to Catholic University, Pope Francis devoted his weekly audience to a discussion of work. As the work of a new academic year commences, this discourse on work is a welcome inspiration.
The attention that Pope Francis paid to work is neither surprising nor extraordinary. Much of the modern social teaching of the Church has historic origins in her teachings on work and labor — both on the dignity of work and, more importantly, on the dignity of those who work. In keeping with themes articulated by so many of his predecessors, Pope Francis decries the hardships created by long-term unemployment, the failure to respect the dignity of workers, and those things that foster conflict between work and the nobility of family life.
More personally, however, Pope Francis's words are an inspirational pep talk before the start of a new school year — when many of us will find work to be challenging, days to be long, and the rush of the semester's commitments easily overwhelming as the hectic pace of university life swings into full gear.  And, yes, an upcoming papal visit will certainly be keeping many busy at work!
As Pope Francis reminds us, work has a unique beauty, dignity, and value. Indeed, he began his remarks by saying, "In speaking about a serious, honest person, the most beautiful thing that can be said is: 'he or she is a worker.'" High praise indeed from someone who certainly knows what hard work is all about!   However, this positive view of work has deep roots. After all, as Pope Francis points out, Christ himself was identified by his work — "carpenter" and "son of a carpenter" — several times in sacred Scripture.
However, Pope Francis also shared three other insights on the importance of work that are worth reflection.
First, he speaks of work as nothing less than "part of God's creative plan," as it affords us a way to "express the dignity of being created in the image of God. … [W]ork is sacred." There are times when it is easy to see work as a burden. Yet, in the work given to each of us to do lies a unique way in which we can use the gifts and talents that we have been given to play our own role in God's plan for the world.    There are times when this creative, sacred nature of work is easy to see: when a task is successfully completed, when an exciting initiative is undertaken, or when an unexpected breakthrough in a project comes, it is easy to see the joy in work. At other times, mundane tasks, failed projects, and stress can cloud that vision. So, at the start of a new year, a reminder of the sacred nature of work is an important source of sustenance for those days when the creativity, dignity, and sacredness of work may be in hiding.
Second, he speaks of the importance of work as our contribution to "the common good" and "a great human and social responsibility." A university is a particularly close-knit community in which the work of each — staff member, student, teacher — is closely intertwined with that of others. Pope Francis thus reminds us that what each of us does in our own corner of the community affects all. It is an opportunity not only to do our own task but to contribute to the good of the whole. More importantly, it is an opportunity to ask what our work contributes to the common good beyond what it contributes to our own growth and our ability to support our families.
Finally, and perhaps most important, Pope Francis speaks of the great tradition:  "Prayer and work can and must be in harmony. … The absence of work damages the spirit, just as the absence of prayer damages practical activity." He asks us not to see a false dichotomy between prayer and activity but to see them as united — one strengthens the other and one motivates the other. So often, what we bring to prayer are the problems, worries, and joys that we encounter in our work.  So often, the peace and strength found only in prayer makes our work kinder and wiser. As I look at Pope Francis's schedule for his upcoming trip, I see much time for prayer in his liturgical celebrations and gatherings with religious and clergy  in all the cities he will visit. But, I also see hard work in his visits to governmental leaders and social service organizations. As I look at my own schedule scribbled in my appointment book, the picture may be a little more skewed toward the secular than toward the sacred. In his reminder of the link between work and prayer, Pope Francis reminds us not to neglect either if we do not want work to be "separated from its spiritual qualities."
As we return to the work of a new academic year, I have much for which to be grateful — labor that I love, a community that I cherish, family and friends who both support my work and encourage me to play, and a work life in which I rarely dread Mondays. But, I also know that in those times when work has its challenges, Pope Francis's discourse on the value of work also includes the prayer that "God grant us the ability to accept with joy and hope his call, the call to work. …."   Welcome back!