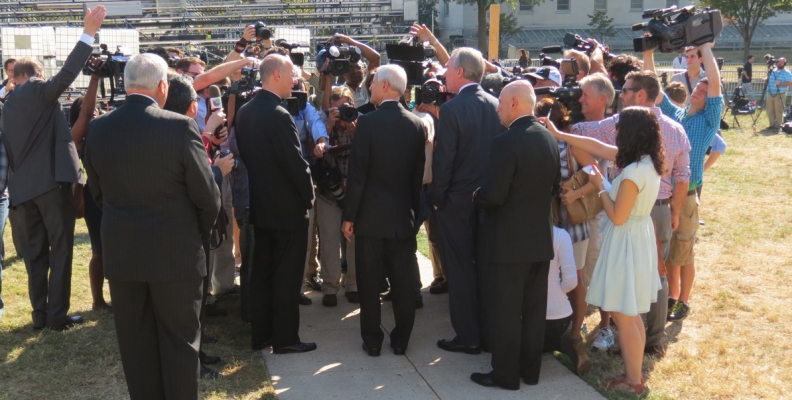 Press Conference Highlights Preparations for Papal Visit
This morning, dozens of reporters assembled on the University Mall for an inside look at the preparations that are underway for the Sept. 23 Mass on the East Portico of the Basilica of the National Shrine of the Immaculate Conception during which Pope Francis will canonize American missionary Blessed Junípero Serra.
The reporters stood in the very spot where 25,000 people will gather in six days for the Mass. Before the press conference began, reporters got to witness staff members from the Office of Facilities Maintenance and Operations remove a light pole that stood in the way of the view of the East Portico of the Shrine.
Catholic University President John Garvey; Cardinal Donald Wuerl, archbishop of Washington and University chancellor; and Monsignor Walter Rossi, rector of the Basilica of the National Shrine of the Immaculate Conception, took a brief tour of the work underway on the Shrine, including a close-up inspection of the roof and stage that will be the visual centerpiece of next week's Mass.
During the press conference, President Garvey, Monsignor Rossi, and Cardinal Wuerl all noted the work three CUA architecture students did to design the altar furniture that will be used during the Mass.
"We're providing the nave for the Mass," Garvey said. "We're best of neighbors with the Shrine."
Garvey noted that on Sept. 23, 500 students from CUA will serve as volunteers and that approximately 6,000 members of the University community would be in attendance.
Cardinal Wuerl said he was hopeful that the sky on Sept. 23 would look "every bit as blue" as the sky this morning.
"Can you envision a better place for this Mass?" he asked.
Wuerl also spoke a bit about the "Francis effect" during the press conference.
"He [Pope Francis] has a way of touching people," Wuerl said. "We are finding that so many young people especially are touched by Pope Francis."
Although Wuerl said his office has received requests from approximately 10 times more people than there are spots available at the Mass, he thanked the media present for their role in bringing the Mass to those who will not be able to attend in person.
"Because of the ability you have to reach people all over the world, there will be millions of people assisting in this Mass."