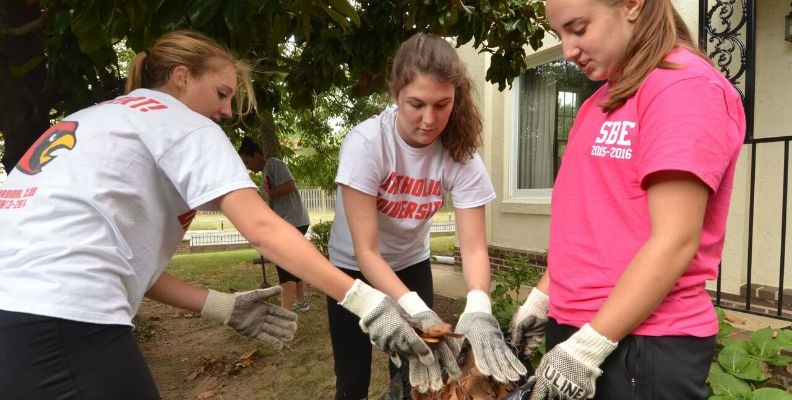 CUA Service Day Draws Hundreds
In preparation for Pope Francis's upcoming visit, students, faculty, staff, and alumni from Catholic University participated in "Serve with Francis Day" on Sunday, Sept. 13, in the Washington, D.C., area.
Approximately 530 people spent the day serving at locations such as Carroll Manor Nursing and Rehabilitation Center, Catholic University's community garden, Archbishop Carroll High School, and the Franciscan Monastery, where University President John Garvey helped with work in the garden.
The day of service was part of the Office of Campus Ministry's programming tied to Pope Francis's Sept. 23 visit to the University's campus. Under the theme "Walk with Francis: Joy of the Gospel," Campus Ministry is inviting members of the CUA community to "Walk with Francis" through events related to prayer, learning, and service. The events are tied to the Archdiocese of Washington's #WalkwithFrancis initiative, which encourages D.C.-area residents to take a pledge to follow the example of Pope Francis by serving in their community however they can.
Pope Francis will celebrate Mass on Sept. 23 on the East Portico of the Basilica of the National Shrine of the Immaculate Conception. During the Mass, Pope Francis will canonize American missionary Blessed Junípero Serra. The congregation will assemble in the area surrounding the steps of the Basilica, including the 3.6-acre University Mall.