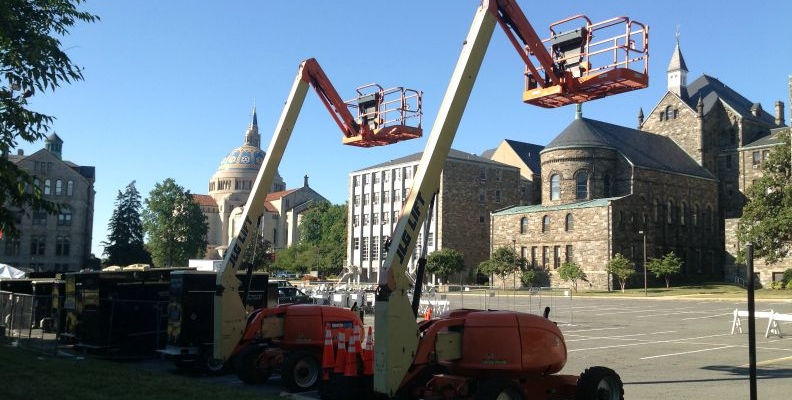 Construction Begins on Campus for Papal Visit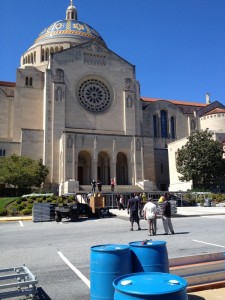 The parking lot behind McMahon Hall is usually filled with cars belonging to students, faculty and staff, but over the next couple of weeks, the lot will be filled with equipment needed to prepare for Pope Francis's Sept. 23 visit to Catholic University.
The equipment that arrived in the lot and on the east side of the Basilica of the National Shrine of the Immaculate Conception this morning provides some of the most visible signs to date of the impending changes coming to the campus.
Over the next nine days, Showcall Inc., an events production company with which Catholic University has partnered, will be on campus to build key structures for the canonization Mass of American missionary Blessed Junípero Serra. A stage and roof will be built on the east steps of the Basilica. A stage for the choir will be built nearby. A riser that will hold more than 350 members of the media will be erected near Pryzbyla Plaza between Shahan and McGivney halls. LED video walls will be installed near the stage so that the 25,000 ticketed guests will be able to see the Mass.
Showcall will set up chairs for the congregation that will assemble in the area surrounding the steps of the Basilica, including the 3.6-acre University Mall.
Stay tuned to popeindc.cua.edu for more information about preparations underway on campus.