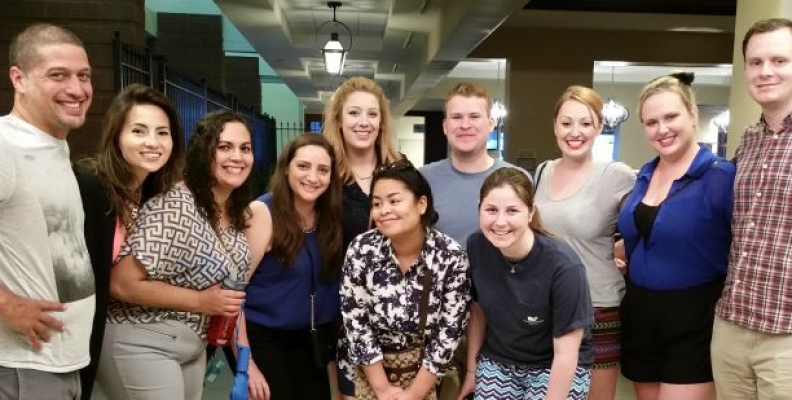 #WalkwithFrancis: Jessica Lau
In the days leading up to Pope Francis's visit to the United States in September, Catholic University is highlighting the work members of the CUA family are doing in the community. The #WalkwithFrancis initiative coincides with the "Share the Joy, Walk with Francis" theme for the D.C. leg of the Pope's visit.
Below, Jessica Lau, a third-year CUA law student, reflects on the work the Columbus School of Law's Legal Services Society does with the New Orleans Public Defender Office every year. Over the course of a week, law students assist local public defenders in meeting some of the legal needs of their most impoverished clients.
At Catholic University we are taught that there exists a path to the common good. The school encourages us to use every effort we can to work together, create new relationships, and to demand of everyone kindness, dedication, and love in order to reach the common good.
Every year in May the law school's Legal Services Society goes to the New Orleans Public Defender Office in an attempt to bring light and hope to those who have been marginalized and branded by society as a 'criminal.' In a joint effort, students work with attorneys, investigators, family members, and defendants in an attempt to allow each client to experience kindness, dedication, and some sort of social justice to which they are entitled. In this week spent attempting to assist those who have been labeled as poor, undeserving, or malicious, many students come to learn the injustices of the world, but also the strength of their faith and hope in the world to change its current state. The experience of being in New Orleans is a profound and shocking experience. Moreover, it is the exact type of experience that strengthens one's commitment to serve others, and to serve without judgment or limitation. An experience that makes one realize that if we stand for only some, we in fact stand for none.
Want to share how you #WalkwithFrancis? Send us a photo via email hidden; JavaScript is requiredor tag your submissions #WalkwithFrancis on Twitter or Instagram. If you are a member of the CUA community, please also send a few short sentences describing the type of service you do (for the Church, in the neighborhood, anywhere) and what #WalkwithFrancis means to you. We will feature some submissions on CUA's website and social media.
The Archdiocese of Washington also has launched a #WalkwithFrancis pledge campaign, which encourages D.C.-area residents to take a pledge to follow the example of Pope Francis by serving in their community however they can. The pledges will be gathered via social media and on WalkWithFrancis.org. Thousands of the pledges will be compiled into a book that Cardinal Donald Wuerl, archbishop of Washington and chancellor of Catholic University, will present as a gift to the Holy Father during his visit.
For more information on the archdiocese's campaign or to make a pledge, go to WalkwithFrancis.org.