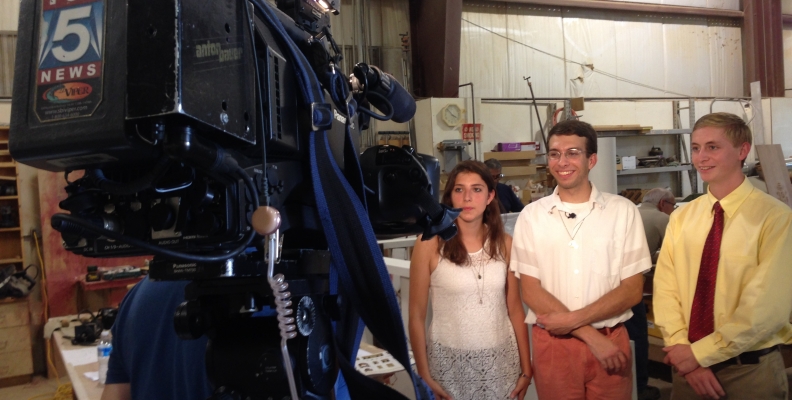 Papal Furnishings Draw Local and National Media Attention
More than two dozen reporters swarmed Carriage Hill Cabinets in Frederick, Md., Aug. 17 to get a glimpse of the altar furniture that will be used by Pope Francis in Washington, D.C., in September. The furniture was designed as part of a competition among CUA students in April. The winning designers — recent architecture graduates (pictured above, from left) Ariadne Cerritelli, Matthew Hoffman, and Joseph Taylor — patiently participated in four hours of interviews Monday afternoon while also trying to take quick breaks to talk to the builders and see their designs coming to life.
The furniture is being built by Deacon Dave Cahoon, a carpenter and ordained deacon for the Archdiocese of Washington, with assistance from Doug Fauth at Carriage Hill Cabinets. Assisting Deacon Dave — both in building the furniture and in the media event Monday — were other local craftsmen including Lawrence Wroten, who carved the papal seal onto what will become the back of the Pope's chair, and Karen Kouneski, who is working on the mosaic that will be installed in the center arch of the altar. Deacon Dave's employee Carlos Hernandez continued working on the altar through much of the media event.
Cerritelli and Hoffman are continuing with master's degree studies at CUA this fall. Taylor is working for an architecture firm in Annapolis, Md.
To view stories resulting from this media event, visit In the Media.